Rosemounts Institute of Languages is a Private ESL School based in the beautiful Himalayan foothills of Dehradun, India. Rosemounts Institute offers a variety of language courses covering English, Hindi, and French. For English, they focus on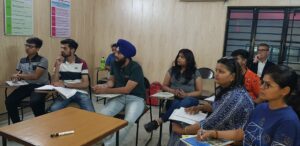 university-aged students and working adults. They work with students both from within India and abroad. Many students from abroad travel to Rosemounts to experience the beauty of Dehradun while improving their language skills. A large portion of their students attend the institute to prepare for university entrance exams such as IELTS and TOEFL.
Rosemounts Institute's leadership felt that students in India are expecting more from a language institute  
Madhukar Dhiman, Director of Rosemounts, first approached Off2Class with 2 major requests: 1) a tool to offer online lessons as an additional offering to students that attended courses in Dehradun (e.g. students from overseas that were returning to their home countries) 2) interactive digital lesson content to complement their in-classroom experience.
In the case of online ESL lessons – the school had numerous requests for distance learning but did not have a process in place to offer it. Their teachers were naturally trepidatious to simply 'jump into online ESL lessons'. With Off2Class, providing this option to students has been simple. Teachers soon discovered that using Off2Class in an online environment is not overly different from the in-class experience. Students leaving India are now able to continue with the teachers whom they've built bonds with while at the institute.
In this case of digital lesson content – there was a feeling that students in India are expecting more. 'More' than just a course book approach to the in-classroom experience. Rosemounts Institute's classrooms are equipped with screens but teachers didn't always have content that was purpose-built for them. Rosemounts Institute teachers have greatly enjoyed having access to a 700-lesson library. They are easily able to pair Off2Class' digital content with their existing course materials.
We've greatly enjoyed working with the Rosemounts Institute team and greatly look forward to partnering with them on some exciting projects in Higher Education in northern India.
---
"Our teachers and students love the ESL lesson content. The images complement explanations perfectly and keep the lessons exciting and engaging! "
Madhukar Dhiman, Director, Rosemounts Institute
---