Online ESL Teacher Community: Rhonda
English learners, are you looking for a teacher? Meet online ESL Teacher Rhonda, a professional online ESL teacher who can help you achieve your English goals. Book a consultation with Rhonda here!
.
.
.
Meet online ESL Teacher Rhonda, an Online English teacher in Texas
.
.
About You
.
In today's busy world of online teachers, you have many to choose from when beginning the search to improve your English. I'm sure it can be quite overwhelming!
Consider your learning goals and what you'd like to achieve. Maybe you have a focused plan such as finding a new job or returning to school. Or maybe you struggle communicating with your child's teacher and need more encouragement speaking outside your comfort zone. Perhaps you enjoy connecting with other language learners along the way in a group setting.
You may have employment, family and other outside pressures that are holding you back from achieving your dreams. But by partnering with you, encouraging you along the way, I can help as your English teacher and mentor.
.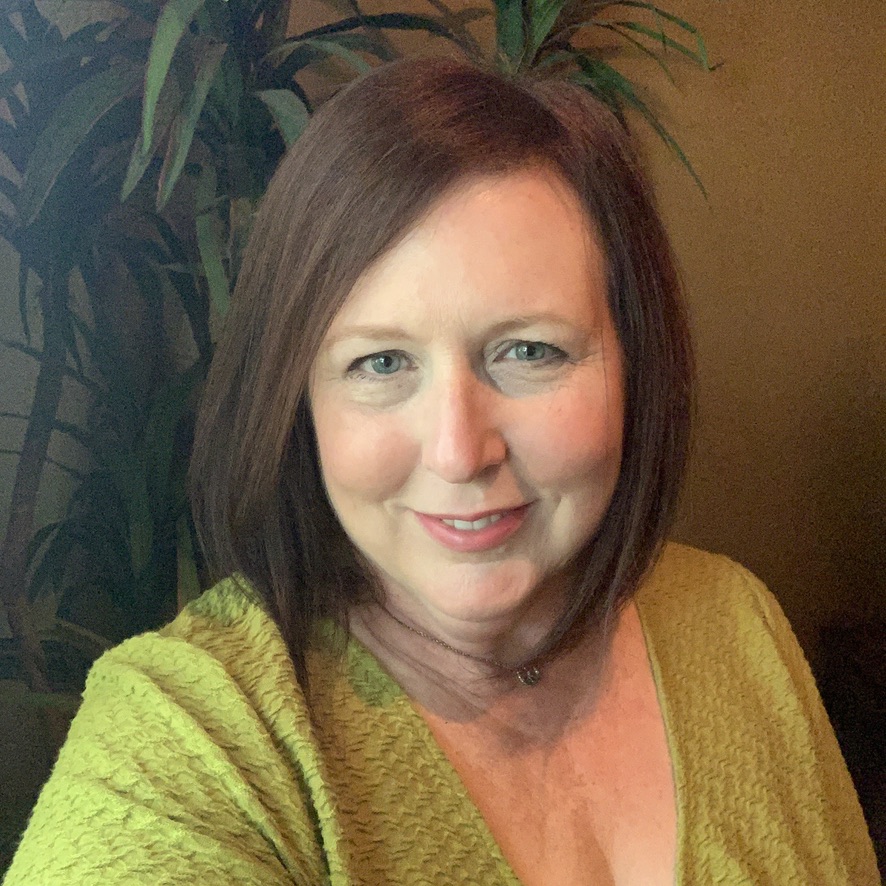 .
A relationship based approach
.
I have many techniques that help you improve your language skills, but they all start with the student-teacher relationship. I quickly form connections with my students which will give you a sense of comfort.
Once we settle on what you'd like to accomplish, then there are many paths we might take. If you prefer a 6-week group class, then not only are you improving your English, but you also begin to make connections with other language learners. This is a valuable tool for practicing your speaking skills outside of our lessons together.
If we work together in a private setting, I take a more customized approach. In this case, I work with you on a personalized learning plan. This plan will not only include filling in the gaps of your English knowledge, but it will also give detailed suggestions for your own self-study.
In both the private classes as well as the group classes, I utilize the Off2Class platform to guide us. These interactive lessons have proven very popular with my students as they meet all of the language skills with a modern approach. I am certain that homework outside of our time together reinforces and increases your learning. I assign homework not only from Off2Class, but also speaking, listening and writing assignments. Some take you out of your comfort zone as they may include sending me audio of you speaking and even making short videos that might be shared with other learners for more feedback.
Many students may want to practice informal speaking. I offer a weekly, group time for us to meet online and just chat. I provide topics and guide the discussion, but homework is not assigned. Many of these participants enjoy this time in addition to a group or private lesson.
In all of the choices that I offer to learners, be prepared for positive encouragement, an optimistic outlook on life, and genuine feedback. And even some fun along the way!
.
.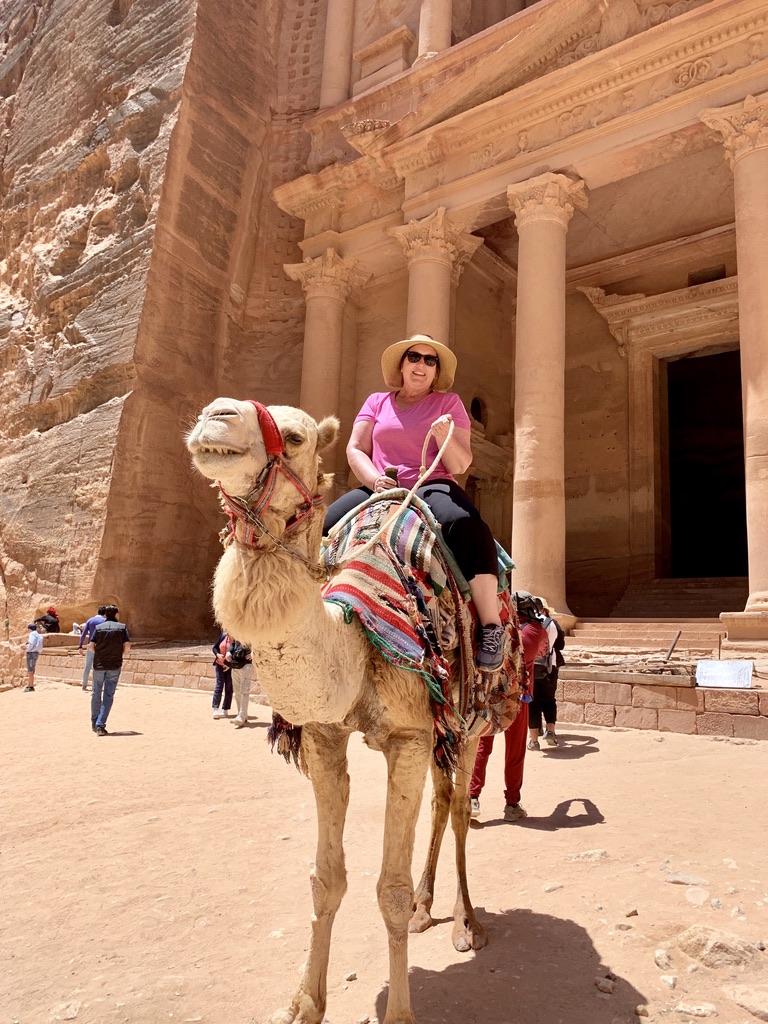 .
What you can expect
.
If you think that we might be a good student-teacher match, then book a time to meet me online! On my website, choose "Free English Learning Plan" and schedule a convenient time. Prior to our meeting, I will communicate with you the directions for completing the online placement test.
During our 30-minute consultation, we discuss your needs and goals, take a look at your placement test results, and talk about your next steps. I provide a learning plan so you see what skills you excel in and what skills need improvement. I will also demonstrate the Off2Class platform so you understand the curriculum that I use.
.
About me
.
I have a bachelor's degree in Sociology as I started my career (many years ago!) in the social work field. Shortly after graduating, I returned to college and received my certification to teach in the state of Texas. After spending time in the classroom, I took time off to raise my three children and volunteer in my community. Upon returning to work, I spent 12 years leading and teaching English as a second language in a non-profit organization.
Some additional experience that I have that sets me apart is that I am a Gallup-certified Strengths Coach. This training over the years has allowed me to focus on what my students do well, and then build upon those talents. I believe that this positive approach, combined with the values that I hold as an educator, help build student confidence which then allows them to begin speaking. This is the key to language learning!
On a more personal note, I have been married for almost 30 years. My husband and I have raised three sons. It's always nice to be the queen of the family! Together, my husband and I enjoy traveling, cooking and watching baseball. Some of my hobbies include gardening, reading, and having fun with my girlfriends. I also consider myself a novice bird and butterfly watcher!
.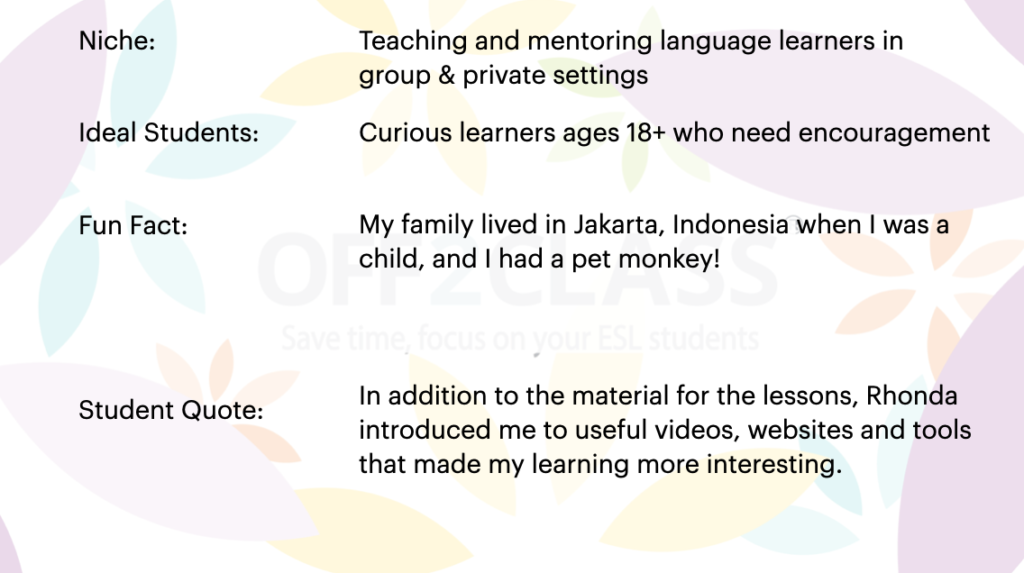 .
Take a look at my website and reach out to me with any questions. I look forward to hearing from you!
We're excited for you to meet online ESL Teacher Rhonda!
More teachers from the ESL Teacher Community
View all